Located in the Western part of the USA, Wyoming is such a great destination attracting tourists with its gorgeous natural beauty. While in Wyoming, in order to experience its stunning scenes, it is a great idea to go skiing in the winter or go hiking, kayak on lake, ride a bike in the summer. If you are planning to go to Wyoming or still don't know where to go in the upcoming trip, just take a look at these destinations in Wyoming.
Devil's Tower National Monument
The Devil's Tower National Monument was the first monument of the US which was recognised by the government as national. The Devil's Tower impresses tourist with its height raising about a mile above sea level which was shaped by a long-time-ago volcanic erosion. 
As from the outside, this monument look like an entrance door of a mystery underworld, there are a lot of stories around it and that one of the reasons why it named as Devil. 40 years ago, the Devil's Tower National Monument was used to film a well-known science fiction movie called Close Encounters of the Third Kind.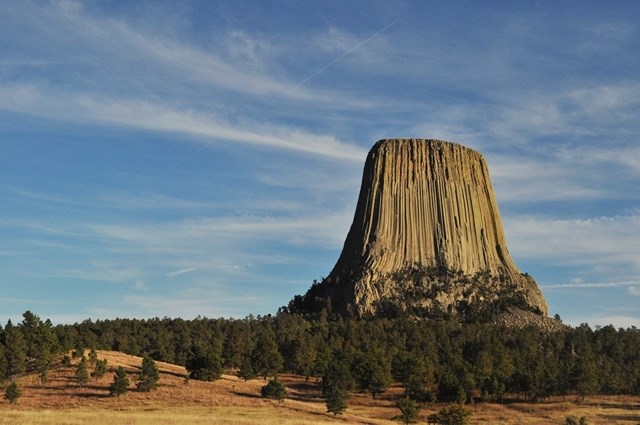 The best time of the year to visit the Devil's Tower National Monument is September. It is because at this time, under the sunshine, the whole monument turns into red color making it is even more stunning. Coming here, you would also have a chance to kayak or raft in the Belle Fourche River nearby.
Yellowstone National Park
Yellowstone National Park was constructed in the year of 1872 and therefore, it is considered as the American's as well as the world's oldest national park. The area of this park is once recorded a 3,468 square miles making it seems to be deserted.
In Yellowstone National Park, you are able to hang out at the Old Faithful Geyser erupting once per 92 minutes, hot Prismatic Springs, forest, meadows or huge mountains and lakes. It is such a perfect place to take many satisfying pictures.
Grand Teton National Park
Grand Teton National Park is an appropriate place to take a walk or hike due to its 200-mile trail and beautiful mountainy views on the road. However, it is required to bring a small food container with you if you wanna camp here. 
An entrance fee for a vehicles coming in the Grand Teton National Park is about $35 each. Yet, it is recommended to armed yourself an America the Beautiful pass which is a pre-paid ticket for all of the U.S parks and federal sites. It will cost you $80 unless you are in military or an 8-year-old kid, though it's quite worthy since it will be in-dated for the rest of your life.
Thermopolis
Although all of the volcanoes in Wyoming haven't erupted for years, it is not mean they stop working. The clues can be clearly seen from the mud in Yellowstone which is always bubbling. Therefore, the heat from the activity of the Wyoming mountain however slight it is, still strong enough to warm up the walter in the Thermopolis town.
Spending hours in the hot springs of Thermopolis is a great idea to relax after days hiking, especially when the Hot Spring State Park Bath House is totally free. Coming here, you also have a chance to trying to go through a swinging bridge and have fun at the Wyoming Dinosaur Center where numerous of bisons living.
Dude Ranch
If there is still time on your journey and you do not know where else to go, it is a nice option to hang out in a farm where you can milk cow or go sightseeing while riding a horse.
There are still so many things to do and go in Wyoming. Grab your luggage and plan a trip here as soon as possible.