Bulgaria is a small country located in the Europe. Although it is not one of the most famous tourist spots and quite hard to travel for independent backpackers as there are not a lot of the locals who can speak English as well as the alphabet has some differences, in my point of view, Bulgaria is an ideal hanging-out place. The reasons will be discussed in the following paragraphs.
A not-crowded attraction
Different form many well-known spots in the world where you have to compete with hundreds or even thousands of others to take a look at a view, Bulgaria is never jam-packed with tourists. It is even such a strange case if there are about a dozen of foreigners sitting in one restaurant. 
Thus, it is a great opportunity to watch the beauty of one of the UNESCO World Heritages without sharing with numerous people. Just take a bus tour and then you will fall in love with gorgeous scenes of Rila Monastery.
Good food for good prices
The adjective "good" which I use to describe the food here is not only about its taste but also the way it affects your health. Bulgarians usually eat "slow food" which is cooked at home with fresh ingredients. In other words, it is the "farm to table" meal. The locals love eating everything in their right season and when it is not the time, they eats pickled or can food which are made since the time before. Dairy products are also firmly favoured by the locals, especially yogurt and white cheese. 
There are hardly any fast food stores found here. Supermarkets are also nearly deserted in this area due to the strong development of the local markets and veggie stands.
Alcohols in Bulgaria are also quite cheapie, especially when it comes to rakia which is a regional liquor made from grapes, plum,etc.
A large under protection green space
The more development the world gets, the more green spaces are narrowed down in most of countries, especially those are developing. However, the same is not true for Bulgaria. Although Bulgarian government keeps complaining about their deforestation due to the cutting-down activity of Ottomans and the Soviets in the past, Bulgaria still proud of owning such an admirable green spaces.
Perfect for hiking
It is undeniable that Bulgaria is such a suitable places for those keen on hiking. There are 3 best-known hiking routes here which two of them are located in Sofia. In other words, you can spend days hiking through mountains in order to watch the stunning on-the-road views with glacial lakes, visit painted monasteries, see ancient castles, pass roaring waterfalls, and take in the panoramic vistas.,etc. At the night, there are a few hostel available in nearby villages.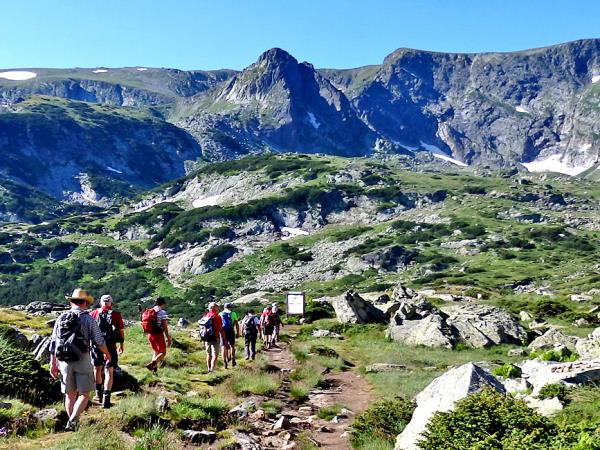 The prices are also really reasonable. It can be seen from the guiding cost which is only $100 per person consisting a tour guide and 2 meals a day.
Veliko Tarnovo
Veliko Tarnovo is a hardly-known ancient town of Plovdiv. Despite of the destruction of Roman, Veliko Tarnovo still attracts tourists by its unique architecture. Coming to this town, you may feel like go back to the time of travelling to some famous traditional villages such as Chefchaouen, Luang Prabang, Hoi An, San Cristobal de Las Casa, or Hampi, yet, with fewer people. 
It is quite easy to get to Veliko Tarnovo as it positioned right on the train route from Istabul to Bucharest. Spending a night in this town is also a great idea as the room is totally not pricey and usually charges you around 35 to 60 euros only.
A nice places for skiing
Bulgaria is also a perfect stop for those love skiiing even in May, when the ski season ends as there are stills all-year-round ski villages here. The prices are really reasonable as the priciest ski route including a gondola in the central of the town to the summit charges you only 40 US$. The others cost only half of it. Renting the full package of equipment costs 10 euros a day.
In conclusion, these are 6 reasons why you should choose Bulgaria as the next destination. What are you waiting for instead of grabbing your things and go?